Metafex Explosive Replacements
Metafex® is a safe, powerful alternative to conventional explosives. It is versitile and can offer a significant logistics savings.

Ennorex LLC specializes in the commercialization of Metafex Technology for many applications. Information is available at the Ennorex website, ennorex.com. Ennorex is affilated with STI.
Explosive Problem
Throughout history, people have used energetic chemicals such as explosives and propellants. Conventional energetic materials are hazardous, and are subject to lethal accidents and dangerous misuse. In addition, the manufacture, shipment, storage, handling, and disposal of explosive materials pose significant logistics burdens to any operation.
Metafex Solution
Metafex is a material that is safe (inert) until activated by an electrical pulse. It is then three times as energetic as TNT. Metafex provides the benefits of explosives without the safety hazard or the logistics burden.
Metafex stands for metal-fueled explosive replacements. Shock Transients, Inc., registered the trademark in 2002. Metafex technology is covered by US Patent 5,859,383.
Metafex produces approximately four times the energy of the input electrical pulse. For a given application, the shape of the pressure pulse can be controlled by the shape of the electrical pulse.
Safety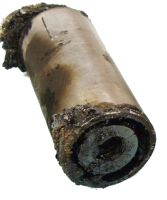 The handling of military substances "manufactured with the view to producing a practical explosive or pyrotechnic effect" is covered by the Department of Defense hazard classification manual. The manual specifies a "bonfire test" for materials like Metafex that are inert and "excluded by definition". The test depicted to the right, similar to the bonfire test, confirmed insensitivity to fire. Other than surface charring and the burning of the melted plastics, the Metafex test samples showed no effect from being set above a propane flame for thirty minutes.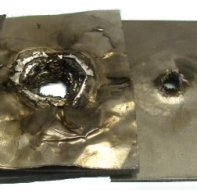 STI has also made shaped charge and bullet impact tests to evaluate the sensitivity of the material to these types of impacts. The image to the left shows outcomes of one of these tests. The experiments confirm insensitivity to very extreme conditions.
Development
Metafex is currently under intense research by STI. It has proven to provide excellent safety with energetic results. Both STI and Ennorex can provide information about the current status and plans for this product.