Explosive Characterization
Explosive characterization is the study of explosive detonation and the physical effects of the high-pressure gases created by the detonation. STI extends its ability in impact analysis to cover topics such as ignition models.
Octol Pop Plot
STI's Lee-Tarver ignition and growth model for Octol 70/30 closely matched the data from the wedge test experiment: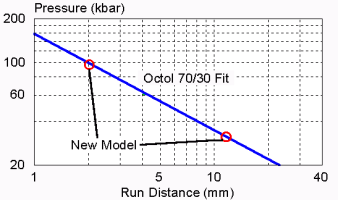 Projectile Impact on Cased Explosive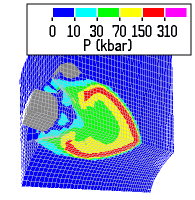 Impact at a velocity above the threshold caused initiation of the explosive in the analysis to the right.
See Three-Dimensional Analysis of the Explosive Initiation Threshold for Side Impact on a Shaped Charge Warhead
Improved Hydrocode Models of Explosive Initiation
Models for and analysis of shock initiation of explosives and evolution of detonation fronts
Derivation of explosive equations of state and Lee-Tarver ignition and growth models for non-tabulated formulations or densities